Intracranial vessel wall imaging: current applications and clinical implications
Neurovascular Imaging
2016
2:4
Received: 26 November 2015
Accepted: 17 December 2015
Published: 4 February 2016
Abstract
Conventional CT, MR, and digital subtraction angiography rely on the presence of luminal narrowing for the identification of vascular pathology offering limited insight into the offending pathophysiologic mechanism affecting the vessel. High-resolution MRI vessel wall imaging (VWI) has the potential to directly depict and characterize vessel wall pathology affecting the intracranial circulation increasing diagnostic accuracy for vasculopathies with similar angiographic findings.
Keywords
Vessel wall imaging
Black blood MRI
Intracranial
Vasculopathy
Intracranial stenosis
Atherosclerosis
MRI
Background
Blood flow and CSF suppression are essential for optimal vessel wall visualization in the intracranial circulation [
1
]. Intracranial VWI is especially challenging due to the small caliber and tortuosity of the intracranial vessels necessitating submilimeter spatial resolution and high field strength magnets [
1
–
3
]. Black blood MRI (BBMRI) sequences are designed to achieve blood flow suppression and have historically utilized 2-dimensional (2D) pre- and postcontrast T1- or proton-weighted sequences to characterize the vessel wall [
1
,
3
]. The 2D sequences are prone to partial volume artifacts, which are accentuated by the tortuosity and small size of intracranial vessels [
2
]. Three-dimensional (3D) sequences have more recently become achievable and have the advantage of a large field of view, which allows substantial coverage in a single acquisition in a clinically acceptable scan time obviating the need for prospective slice placement, and isotropic resolution, which allows post hoc reconstruction along the short and long axis of vessels minimizing overestimation of wall thickness (Fig.
1
) [
2
].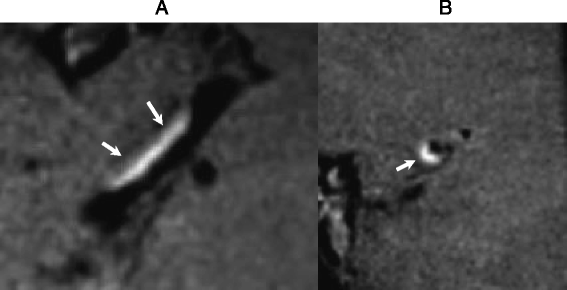 Specific vessel wall characteristics that are sought on VWI include vessel wall thickening (smooth, irregular, circumferential, concentric, eccentric), signal, and enhancement [4]. A short axis view perpendicular to an intracranial vessel is best for evaluation of vessel wall thickening and pattern of enhancement (Fig. 1b). In this text we review the major current applications of BBMRI in the intracranial circulation.
Conclusions
VWI is a rapidly growing and evolving area of clinical and research interest that holds promise to improve diagnostic accuracy for intracranial vasculopathies. VWI enables direct visualization of offending vessel wall pathology, which wouldn't be detectable on conventional imaging unless it resulted in luminal narrowing. Specific vessel wall thickening and enhancement patterns have been described in several conditions with similar angiographic findings enabling discrimination of these diseases that was not previously possible. VWI appears to allow for assessment of atherosclerotic burden and for risk stratification of individual ICAD lesions with potential to influence treatment decisions. Further prospective studies are needed to better define the role of VWI in predicting risk from intracranial vasculopathies and determining the best management approach.
Abbreviations
2D:

2-dimensional
3D:

3-dimensional
BBMRI:

Black blood MRI
CNS:

central nervous system
ICA:

internal carotid artery
ICAD:

intracranial atherosclerotic disease
MCA:

middle cerebral artery
MMD:

Moyamoya disease
PCA:

posterior cerebral artery
RCVS:

reversible cerebral vasoconstriction syndrome
VWI:

MRI vessel wall imaging
Declarations
Acknowledgements
BAW has received grant support from the National Heart, Lung, and Blood Institute (RO1HL105930-01A1).
Open AccessThis article is distributed under the terms of the Creative Commons Attribution 4.0 International License (http://creativecommons.org/licenses/by/4.0/), which permits unrestricted use, distribution, and reproduction in any medium, provided you give appropriate credit to the original author(s) and the source, provide a link to the Creative Commons license, and indicate if changes were made. The Creative Commons Public Domain Dedication waiver (http://creativecommons.org/publicdomain/zero/1.0/) applies to the data made available in this article, unless otherwise stated.
Authors' Affiliations
(1)
Department of Radiology, Rush University Medical Center, Chicago, USA
(2)
The Russell H. Morgan Department of Radiology and Radiological Sciences, Johns Hopkins University School of Medicine, Baltimore, USA
Copyright
© Kontzialis and Wasserman. 2016