Neurovascular 4DFlow MRI (Phase Contrast MRA): emerging clinical applications
Neurovascular Imaging
2016
2:8
Received: 28 February 2016
Accepted: 18 April 2016
Published: 22 April 2016
Abstract
Recent advances in 4DFlow MRI (Phase Contrast MRA) acquisition and reconstruction enable high resolution exams to be obtained in practical imaging times. 4DFlow MRI provides images of vascular morphology and quantitative measurements of blood velocity throughout a 3D imaging volume. Hemodynamic parameters such as flow volume, relative wall shear stress, streamlines, vorticity and pressure gradients can be derived from the velocity data. The combination of anatomic vessel wall imaging, lumen visualization and physiologic data derived from accelerated 4DFlow MRI augments the characterization of intracranial arterial stenosis, aneurysms, vascular malformations and dural sinus pathology. This review provides an update for clinicians interested in 4DFlow MRI of the brain.
Keywords
Wall Shear StressDigital Subtraction AngiographyDural SinusOscillatory Shear IndexHigh Wall Shear Stress
Background
Blood flow is altered in a variety of diseases; however, clinically viable methods for evaluating intracranial arterial and venous flow have been limited. With recent advances, blood velocities can be measured with transcranial Doppler ultrasound, magnetic resonance imaging (MRI) and potentially by digital subtraction angiography (DSA). Of these modalities, MRI is an appealing imaging option due to its non-invasive nature, ability to image vessels with complex geometry, high spatial resolution and ability to correlate well with other imaging features. The ability to measure velocities by flow encoded MRI was demonstrated by Moran [1] in 1983, shortly after MR was implemented for clinical imaging. Using this strategy flow encoding was implemented for 2D and 3D acquisition by Dumoulin [2, 3] and clinical applications for vascular flow imaging were expanded by Pelc et al [4] and Wigstrom et al [5]. However, general use of the flow imaging was limited by long acquisition times, complex implementation and motion artifacts. Consequently, for several decades flow measurements with MRI played only a minor role in neurovascular assessment.
Recently, substantial technology has been developed which has dramatically expanded the opportunities for flow assessment with MRI. These include faster, stronger and more stable imaging gradients, phased array receiver technology and orders of magnitude increases in reconstruction hardware. Together and as detailed in this article, these technologies have allowed for cardiac cycle time resolved, 3D flow imaging (4DFlow) to be obtained with clinically relevant resolution in relatively short imaging times. 4DFlow acquires a volumetric imaging acquisition which allows the retrospectively visualization and quantification of complex flow fields. Recent interest from the MRI and post-processing software vendors along with promising clinical studies suggest that 4DFlow MRI will likely become widely available in the near future.
Clinical applications of 4DFlow MRI are now expanding and 4DFlow is increasing used to supplement MRI and MRA exams. The ability to quantitatively measure velocity has many applications in neurovascular imaging [6]. However, clinical implementation of 4DFlow MRI requires an understanding of the strengths and limitations of the technique. This overview discusses the basic features of 4DFlow MRI from a clinical perspective. The review outlines the role of 4DFlow MRI in the detection and characterization of arterial stenosis, atherosclerotic disease, aneurysms, vascular malformations and dural sinus pathology.
Intracranial 4DFlow MRI acquisition
The principles for flow measurement remain similar to those initially proposed by Moran [
1
]. Briefly, when a spin is moving along the magnetic field gradient its resonance frequency changes whereas for a static spin the resonance frequency would remain constant. Thus, if a gradient is applied for some time and an equal and opposite gradient is applied for the same time (flow encoding gradients) static spins will rotate faster and then slower such that the net change in frequency (rotation speed) is zero. For moving spins, the faster and slow frequency will not cancel. For each spin, this results in a phase shift in the acquired signal which is directly proportional to velocity. If the flow encoding gradients are small enough and the motion is coherent (e.g. blood flow) the phase difference in the detected signal is directly proportional to the average velocity in the voxel of interest. This phase difference is only detectable up to a ±180° in each direction and the minimum velocity that causes a 180° rotation is the velocity encoding, V
enc.
Due to this fixed dynamic range, to avoid aliasing, the V
enc
must be selected to be only slightly higher than the maximum expected velocity. As demonstrated in Fig.
1
, for angiograms generated from a 4D flow acquisition, there is a tradeoff between the sensitivity to slow flow and the range of detectable velocities. In some instances, such as in the case of imaging venous flow, the velocity encoding is selected to maximize the signal from slow flow and aliasing of higher velocities is identified and accepted in the images as signal loss.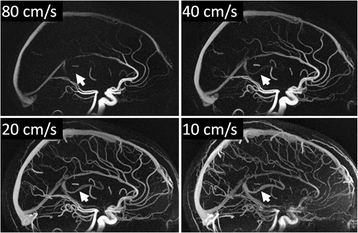 4DFlow MRI is based on an RF and gradient spoiled 3D gradient echo sequence (i.e. SPGR/FLASH/TFE/Fast FE). Starting from a standard sequence, flow encoding gradients are inserted after excitation and before the imaging readout, as shown in Fig.
2
. This increases the echo time (TE) and repetition time (TR) by ~1–3 ms depending on the V
enc
and scanner gradient performance. Further, in order to measure flow in 3 directions at least 4 images must be collected with different flow encoding gradient directions, 1 for background phase and 1 for each direction. Typical implementations interleave these encodings. Finally, cardiac gating is incorporated either though prospective or retrospective triggering. For intracranial applications typically 10–20 cardiac phases are acquired. This results in cardiac time resolved 3D volumes, which are subtracted to produce flow fields (Fig.
3
). Considering the increase in TR, the need for at least 4 flow encodings, and a minimum 10 cardiac phases, the acquisition time for a 4D flow exam is ~50-100x longer than a traditional gradient echo scan, such as those used for contrast enhanced angiography.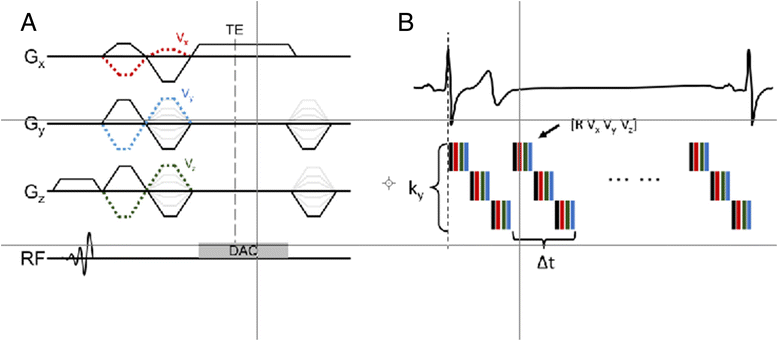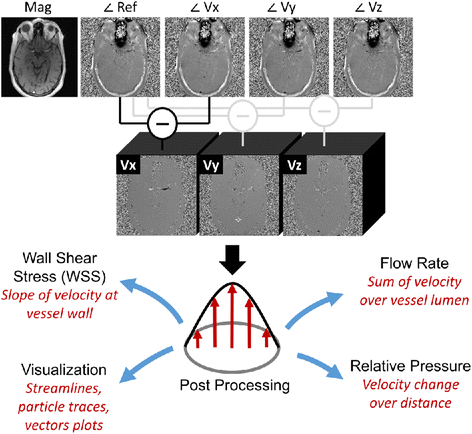 Fortunately, technologic advances have shorted imaging time and increased spatial and temporal resolution. Current implementation varies from site to site and vendor to vendor but follows similar trends. Nearly all implementation of 4DFlow utilize parallel imaging, most commonly direct techniques such as SENSE or GRAPPA [7–9] but also with indirect methods such as using localized coils. In the case of Cartesian imaging, this reduces the required scan time by a factor of 2–4; and is typically not sufficient to reduce scan times for clinically relevant coverage and spatial resolution (<1 mm) to feasible scan times. One potential method for reducing scan times is to use non-Cartesian sampling trajectories which either collect more data per excitation, as in spiral [10] or allow greater under sampling of the imaging volume without obscuring artifacts, as in radial trajectories. Non-Cartesian imaging additionally allows for a reduction of the echo time [11, 12], allowing improved imaging of complex flow and/or higher spatial resolution [13, 14]. Another method commonly used to reduce scan time is to utilize a reconstruction which harnesses correlation in space and time [9, 15–22]. These techniques make the observation that most signal is from non-moving tissues and thus the same in all the time frames. The amount of the acceleration possible with these techniques is extremely high but requires substantial computational power to fully achieve high levels of acceleration [23]. More modest accelerations can be achieved utilizing lower computational burden of k-t acceleration techniques [19]. With the combination of parallel imaging and k-t acceleration techniques, the major arterial circulation can be imaged with 1 mm isotropic spatial resolution within 5–10 min. The joint combination of parallel imaging, spatiotemporal acceleration and non-Cartesian sampling provides the opportunity to further increase spatial resolution (<0.7 isotropic) and provide whole brain coverage [14]. While vendors' have not released specific 4D flow packages, it is most likely that products will be based on simple k-t acceleration, Cartesian sampling and parallel imaging; with computational hurdles existing for advanced constrained reconstructions and non-Cartesian approaches.
4DFlow MRI display and flow analysis
4DFlow imaging acquisitions produce a large number of images which can be challenging to interrogate with standard imaging viewing and analysis platforms. In scenarios where advanced processing is unavailable, there are several components of the 4DFlow MRI data readily available for clinical assessment. The magnitude images display both stationary tissue and flow compensated vascular structures providing the opportunity to precisely related soft tissue abnormalities to the adjacent vessels. Following subtraction of the stationary background tissues, the flow (or speed) images are displayed without specifying the direction of flow. An important feature is that the signal intensity of the flow images is dependent on the velocity encoding selected at the time of the acquisition; flow velocities that closely approximate the velocity encoding will have the highest signal intensity.
Alternatively, each flow encoding direction can be independently displayed. In this instance, the velocity images are reconstructed with velocity displayed in the superior/inferior, anterior/posterior and right/left using a gray scale or color display. Velocity is a vector that has direction and magnitude, if a color display is used, direction is displayed by the chosen color scheme and magnitude is displayed as brightness. Velocity aliasing occurs when the velocities exceed the velocity encoding. In this scenario the pixel signal intensity will flip to display flow in the opposite direction. If a gray scale display is used the pixels change from bright to dark when aliasing occurs incorrectly indicating the direction of velocity and flow.
A more complete and quantitative interrogation of the 4DFlow data is possible with dedicated flow analysis software. This allows the simultaneous visualization of the direction and magnitude of the velocity field and can enable flow measurements of specific vessels. The initial step in flow analysis is the segmentation of the vascular structures from the imaging volume. The resulting vascular and flow data are subsequently analyzed using a 4DFlow package. To date, numerous packages have been adopted most frequently these have been tools developed for generalized visualization of flow fields (e.g. EnSight; CEI, Apex, NC, applications in the aerospace industry); however, FDA approved tools are now available (e.g. Arterys, San Francisco, CA USA). Such flow analysis packages provide software tools allowing for navigation throughout the 3D flow field. The flow field can be transected by 2D planes at the desired location and angle. Velocity and flow rate (flow rate = velocity x cross sectional area of the vessel) can be measured from a 2D plane orthogonal to the vessel of interest. The flow field can also be displayed as color coded velocity vectors representing the magnitude and direction of flow. Streamline displays are virtual instantaneous paths that are tangent to the velocity vectors at the specified point in time. Streamlines are relatively easy to interpret and provide an intuitive sense of the hemodynamics. Particle paths are another option and represent virtual particles that follow the velocity vectors from one time point to another simulating the flow of particles in the flow channels. Many important derivatives of velocity can be calculated. Estimations of wall shear stress can be generated by calculating the velocity gradient perpendicular to the vessel wall, WSS can be thought of as the drag of the flowing blood on the endothelial surface [24]. Measurements of pulsatility can be obtained and expressed as the pulsatility index (PI = (QmaxQmin)/Qmean; Q = flow mL/min) [25]. Vorticity is a curl in the velocity field and measures local rotation, vorticity can be quantified and has the potential to improve characterization of aneurysm flow [26]. Relative pressure variations within the velocity field can be calculated by using the Pressure Poisson Equation derived from the Navier-Stokes equations. For example, relative pressure drop across a stenosis can be determined from the velocity measurements using this approach [27] (Fig. 3). All of these measurements are limited by partial volume effect, phase errors, aliasing and motion. Fortunately, strategies are in development to speed analysis by using automated segmentation, quantification, aliasing corrections and methods to improve streamline, and particle path displays by reducing vector divergence [28–32].
Conclusion
The barriers to the routine use of 4DFlow MRI to study cerebrovascular hemodynamics are gradually being overcome. The combination of parallel imaging, spatiotemporal acceleration and non-Cartesian sampling provides increase spatial resolution (<0.7 isotropic) and whole brain coverage in practical imaging times. Commercial packages are in development which will enable the clinical implementation of 4Flow and hemodynamic analysis. The physiological parameters derived from 4DFlow MRI will augment anatomical imaging and has the potential to improve characterization of the entire spectrum of cerebrovascular diseases.
Declarations
Open AccessThis article is distributed under the terms of the Creative Commons Attribution 4.0 International License (http://creativecommons.org/licenses/by/4.0/), which permits unrestricted use, distribution, and reproduction in any medium, provided you give appropriate credit to the original author(s) and the source, provide a link to the Creative Commons license, and indicate if changes were made. The Creative Commons Public Domain Dedication waiver (http://creativecommons.org/publicdomain/zero/1.0/) applies to the data made available in this article, unless otherwise stated.
Authors' Affiliations
(1)
Department of Radiology, University of Wisconsin School of Medicine and Public Health, Madison, USA
(2)
Department of Medical Physics, University of Wisconsin School of Medicine and Public Health, Madison, USA
(3)
Department of Clinic of Radiology and Nuclear Medicine, Basel, Switzerland